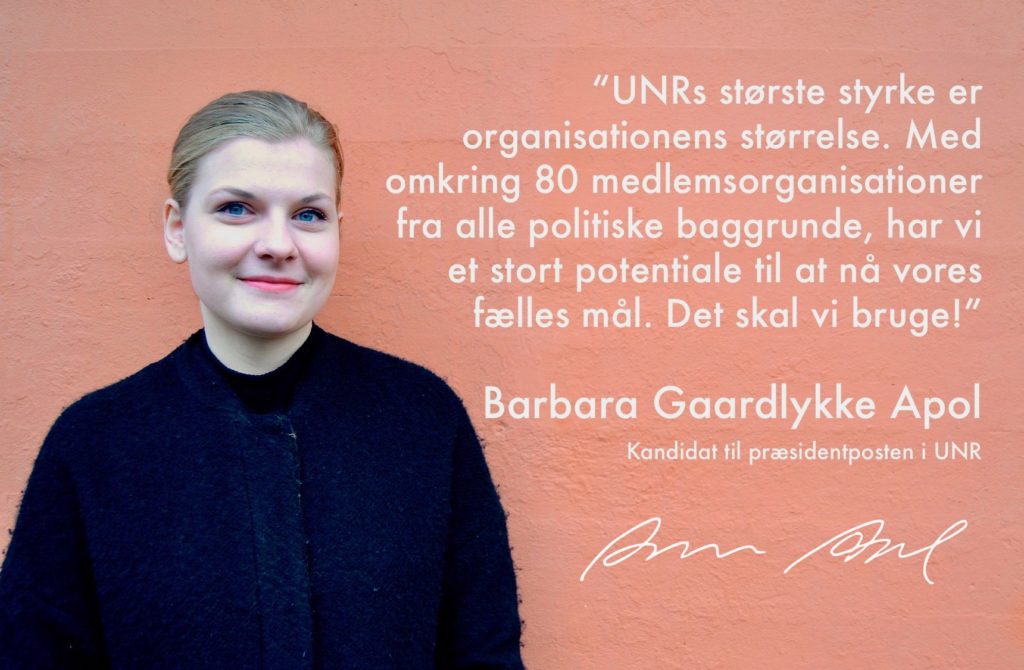 Förbundet Nordens Socialdemokratiske Ungdom (FNSU) foreslår Barbara Gaardlykke Apol (Sosialistisk Ung, Færøerne) til præsident for Ungdommens Nordiske Råd. Barbara er 23 år og studerer økonomi på Færøernes Universitet. Hun har flere års erfaring i politisk arbejde, studenterpolitik og internationalt samarbejde. Blandt andet har hun været landsformand for Sosialistisk Ung på Færøerne og senere Færøernes Studenterforening (Meginfelag Føroyskra Studenta). Derudover har hun været med-koordinator i pilotprojektet af Vestnordisk Ungdomsråd, bestyrelsesmedlem i Foreningen Nordens Ungdom på Færøerne (Norrøna Ungmannafelag Føroya) og ungdomsrepræsentant i Færøernes nationalkommission til UNESCO. Det seneste år har hun også været medlem i UNRs præsidium, og i september blev hun valgt som vicepræsident for UNR.
"Jeg har i flere år arbejdet med en bred vifte af ungdomsorganisationer, og gennem det arbejde har jeg samlet en masse erfaringer, som jeg nu også vil bruge af mere i UNR," siger Barbara. "Vi skal sætte os ambitiøse mål og arbejde hårdt for at nå dem."
Om UNRs potentiale siger Barbara: "UNRs største styrke er organisationens størrelse. Med omkring 80 medlemsorganisationer fra alle politiske baggrunde, har vi et stort potentiale til at nå vores fælles mål. Det skal vi bruge!"
Som præsident for UNR vil Barbara arbejde for:
Som præsident i UNR vil jeg fortsætte det gode arbejde, som det tidligere præsidie har lavet, bl.a. med at sikre en mere jævn kontinuitet i vores arbejde mellem sessionerne. Præsidiemedlemmernes etårige mandat skal bruges konstruktivt og effektivt.
Videre vil jeg arbejde for, at UNR skal være mere synligt i den offentlige debat. Vi skal stræbe efter at være tilstede til alle relevante arrangementer, som vi bliver inviteret til, og vi skal også stræbe efter at få de nordiske mediers opmærksomhed. Dette er vigtigt, om vi ønsker større indflydelse og en stærkere organisation.
UNR spiller en vigtig rolle i det nordiske samarbejde, og vores opgave er unik. Gennem årene har UNR også vist, at vores ungdommens synspunkter er betydningsfulde for det nordiske samarbejde. Dette kan blandt andet ses i de mange medlemsforslag, der bliver lagt for Nordisk Råd, der har en oprindelse i en UNR resolution. Disse succeshistorier skal vi gøre mere ud af for at styrke UNRs indflydelsesmæssige position. Vi skal synliggøre vores resultater mere – både overfor vores partnere og medlemsorganisationer.
Spørgsmål er I velkomne til at henvende til
Karin Reginsdóttir Joensen
Sosialistisk Ung-repræsentant i FNSUs bestyrelse
Sosialistisk Ung Faroe Islands international@su.fo
Barbara Gaardlykke Apol
Email: barbara.apol@yahoo.com
telefon: +298 250920
Ungdomens Nordiska Råds president för 2017–2018, Kati Systä (GUN), ställer inte upp till omval på den inkommande sessionen i Oslo.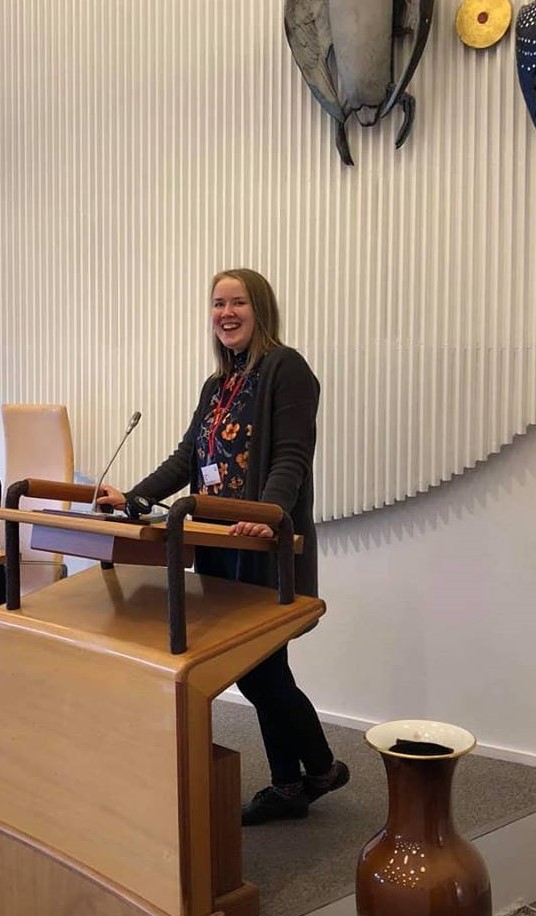 "Det gångna året har varit väldigt lärorikt och givande och nu är det dags för någon annan att föra UNR vidare. Vi har lyckats med mycket, både politiskt och med tanke på UNR som organisation. Jag vill uppmuntra alla att ställa upp till UNR:s president. Posten ger chanser att påverka och föra fram ungas tankar på sätt som man inte får någon annanstans", säger Kati Systä.
Ungdomens Nordiska Råd väljer en ny president samt presidium för perioden 2018–2019 under sin session den 26–28.10 i Oslo, Norge. Personer som önskar ställa upp i presidentvalet ombes skicka en kort introduktion om sig själv till UNR:s koordinator Christa Elmgren (unr@pohjola-norden.fi), senast 22.10.2018.
Mer information:
Kati Systä
President för Ungdomens Nordiska Råd
tel + 358 44 3005760
Epost: kati.systa@turku.fi
Christa Elmgren
Koordinator för Ungdomens Nordiska Råd
+358407748107, unr@pohjola-norden.fi
How can the young generation impact sustainability in the Arctic? In late August, the Youth League of the Finnish Norden Association in collaboration with the Nordic Youth Council organized a camp for young influencers together with three partner organizations from the Nordic countries and Russia in Helsinki, Finland. Read more about the young vision for the Arctic! Below, find the statements put forth by the camp participants:
PRIORITIZE THE ARCTIC ENVIRONMENT
REDUCE THE COSTS TO DEVELOPE THE ARCTIC ENTREPRENEURSHIP
GREATER INCLUSION OF INDIGENOUS PEOPLES AND YOUTH IS NEEDED FOR BETTER DECISION-MAKING
The Nordic Regional Youth Camp: Young Eyes on Sustainability in the Arctic Dimension strived to replicate the youth event arranged ten years ago in adjunction to the Nordkalotten Conference in Tornio, Finland. Finland is holding the Arctic Council presidency 2017-2019, therefore Finland and Helsinki presented itself as the perfect arena to discuss Arctic issues in the summer of 2018. The event was based on the "Planet"-perspective in the Nordic Council of Ministers' Arctic Cooperation Program 2018-2021 and financed primarily by Nordregio.
In the light of climate change, the Arctic region is facing big changes that force us to rethink our way of living, policy-making and working. As the hosting organization, we wanted to find a way to do productive cooperation and find sustainable solutions to save our fragile Arctic. Leading specialists on the Arctic provided guidance and inspirations for the camp participants to find solutions and turn the challenge of the Arctic region in to an opportunity. And solutions we found, as you can see from our statements above. Participants from Denmark, Norway, Russia and Finland came together and visualized a prosperous and sustainable solution for the Arctic from a young perspective!
The Youth League of the Finnish Norden Association in cooperation with the Nordic Youth Council as well as InnoBarentsLab, a student organization at the University of Lapland, Barents Regional Youth Council (Kirkenes, Norway) and Garant the Center of Social Technologies (Arkhangelsk, Russia), were all a part of organizing and gathering young voices from allover the Arctic Region and the Nordic Countries to discuss and find solutions for challenges in the Arctic region, as well as spark the discussion on the region onwards, to a broader audience.
The camp was preceded by a two-day "pre-camp", where the coaches and team members had an opportunity to gain background information and deeper knowledge regarding the issues that were discussed during the camp. We had the pleasure of visiting René Söderman at the Ministry for Foreign Affairs and hear about the agenda setting in the Arctic and hearing more about the business side of sustainability from Timo Rautajoki, the CEO of Finland Chamber of Commerce Lapland. Petra Laiti, Chair of the Finnish Sami Youth Organization introduced team members to the new Arctic generation. The pre-camp also included an educational visit to the Ministry of Agriculture and Forestry, were team members heard about Finnish actions towards a sustainable North. We also had a unique opportunity to visit Arctia Ltd, Finnish manufacturer of ice breakers. All these informative and interesting visits concluded in a handout for the participants of the camp. The handout gave background and broadened the dimension of discussion about the "Arctic" and "sustainability".
The three-day youth camp had two separate programs – Arctic challenges and policy-making program and Media and communication program.
The Arctic challenges and policy-making program focused on presenting recent outlooks on the Arctic region, sustainability, business opportunities and youth perspectives on the region, through prominent speakers. Participants were further divided into three teams: Sustainability and Environment in the Arctic, Sustainable Business Opportunities in the Arctic and Shaping the Future Generation in the Arctic.
The media and communication program focused on how to get your voice and message out, how to communicate in the public sphere, how to influence, how to build a successful campaign, how to be a storyteller. The participants in the media and communication program made communication strategies and concrete media material based on the debate and conclusions made in the other program of the camp.
These two separate programs worked together for a common goal. Read the statements on what the participants concluded that should be done for sustainability in the Arctic Dimension and get to know their faces on our social media channels under the hashtags: #nryc18 #keepingitarctic