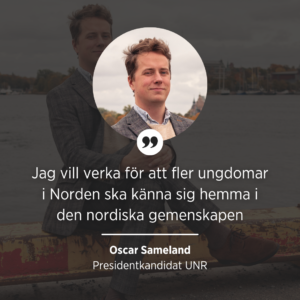 The Nordic Young Conservative Union nominates Oscar Sameland as president for the Nordic Youth Council.
"UNR represents all youth leagues in the Nordic countries, from left to right and from Greenland in the west to Finland in the east. This makes UNR unique from an international perspective and is an asset we must take advantage of. That's the reason why I want to strengthen the umbrella organisations which form the core of UNR."
Oscar Sameland is 28 years old and a member of the presidium of the Nordic Youth Council where he is a representative in the Nordic Council Committee for Growth and Development. In the committee he has pushed through several resolutions that were adopted on the last UNR session, for example on artificial intelligence and a common labour market in the Nordic countries.
Oscar has worked several years for the Moderate Youth League in Sweden as an organisation administrator. During his long-standing background in the Moderate Youth League, he has gained experience on how to engage members and organise a political association. Furthermore, Oscar holds some political duties in the City of Stockholm for the Moderate Party. At present he writes on his bachelor thesis in corporate finance. If Oscar is elected, he will be the first UNR president from Sweden.
"UNR has a strong position within the Nordic Council. Unfortunately, not all affiliates feel committed to UNR, which entail that many youth voices are not expressed in the Nordic cooperation. UNR needs to be inclusive and focus on questions where there is a broad consensus among the different
umbrella organisations. This is required if we are to succeed on issues that are crucial for the young generation – climate changes, a worsened security environment and a tougher international competition, to name a few.